Children aged 0-12, with developmental challenges in the area of daily life skills, learning and behaviour, are treated. Their parents are guided.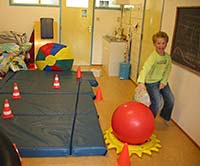 Neuropsychology, mindfulness and natural creativity are interconnected, to help the development of challenged skills, at school and at home.The unique talents of the children, are the foundation for therapy. We do this together, with heart and soul, endless creativity and lots of fun!

Challenges include:


• sensory information processing, SPD en HSP,
• behavioural adjustments and adaptations,
• multisystem developmental delay,
• autism related PDD-NOS,
• learning, NLD and dyslexia,
• attention and concentration, ADD/ADHD,
• developmental coordination disorder, DCD,
• fear of failure and self confidence.

In my experience, children are thus pay attention to the teacher. The organization and planning of skills related to daily life and learning tasks, becomes increasingly successful. Skills in daily life tasks and bedtime routines, are developing. Fear of failure changes into: "Yes, I can learn!"
When children learn some of these skills, in one session, there is so much fun and gratitude.
feedback child
feedback parents